Digital Leaders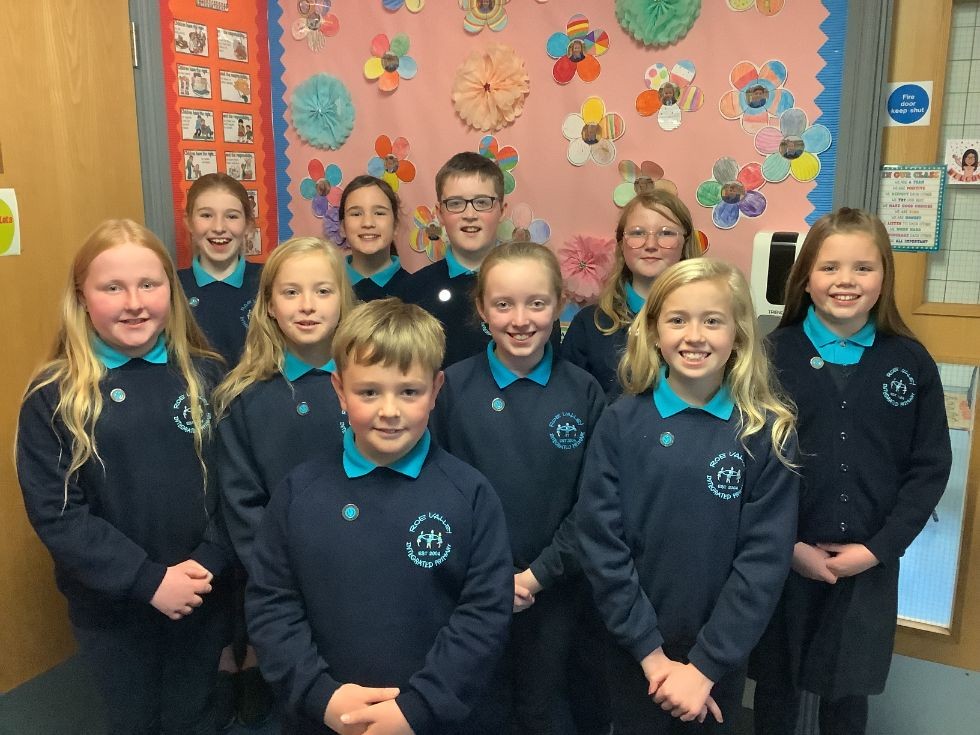 Meet Roe Valley IPS wonderful Digital Leaders!
This year Miss Holmes has once again enlisted the fabulous help of some Primary 6 and Primary 7 children to help with any ICT related jobs around our school.
The Digital Leaders will carry out some very important jobs throughout the year such as looking after and charging the iPads, ensuring that our ICT equipment is in the right classroom at the right time by following our laptop and iPad timetables, organising and helping to run Safer Internet Day and offering teachers and pupils support throughout all the classes in RVIPS by helping to lead and support ICT lessons (how exciting)!
The Digital Leaders are very excited to do their jobs and really do wear their badges with pride. The Digital Leaders have shown that they can be extremely reliable and responsible and love all things ICT! They will be an outstanding help to Miss Holmes and all of the other teachers within Roe Valley IPS.
Who better to tell you about being a Digital Leader than the Digital Leaders themselves...
I am a Digital Leader within RVIPS and I really enjoy it. It's fantastic. I love Tech Team because Miss Holmes takes it. She makes sure we all have a good education in school about ICT and she makes sure that we have a good fun while doing it! ICT has no limits as to what you can do and it really inspires me. ICT is really fun and I am proud to take on the role of being a Digital Leader in RVIPS - Anna-Grace
I wanted to become a Digital Leader so badly and I feel proud to have been selected to be a Digital Leader within our school. I think I am a good Digital Leader because I am good at working with computers, iPads and phones. I really like ICT at Roe Valley. I think being a Digital Leader has been great fun so far and I am looking forward to see what else we will be up to throughout the year! - Rebecca
I am a Digital Leader within RVIPS. I really enjoy being a Digital Leader because it's really fun. I like being a part of Tech Team because Miss Holmes is really good with computers and makes Tech Team fun. I LOVE Tech Team and I am excited for our adventures as Digital Leaders within our school! - Bella
I am a new Digital Leader within RVIPS! I am so excited for Tech Team and I am enjoying it so much already. Tech Team is on for a whole year, so I am looking forward to seeing what we will get up to. The Digital Leaders badge looks really cool and I am excited to wear it with pride - Thomas
I'm a member of the school Digital Leaders. I love being a Digital Leader because we get to make PowerPoints and other things involving tech. I am so happy I'm in Tech Team. As a digital leader I get to help people be safe online and we get to do LOADS of other things involving ICT - Grace
Roe Valley Integrated Primary School 153 Roe Mill Road
Limavady Co L/Derry N Ireland BT49 9EX
Tel: 028 777 68695
E: info@roevalleyips.limavady.ni.sch.uk