WELCOME TO OUR WEBSITE!
Roe Valley is an integrated primary school, which welcomes children from all backgrounds regardless of creed, race, gender or ability. We encourage an atmosphere that is happy, positive and stimulating and develop an open-minded attitude in children,enabling them to value and respect each others traditions and beliefs.

Visitors comment on the warm and caring atmosphere and the bright vibrant learning environment which is evident when you walk around the school. The feedback from the local community is extremely positive and children, parents and staff have developed a real pride in their school and we are looking forward to planning our move to a new building!
As children are at the heart of our school we believe all children are special and should feel valued. We believe children learn best when they are happy and so the development of high self-esteem among children and staff is very important in Roe Valley.
We hope you enjoy using our new website and find it informative and useful.
Julie McDonagh, Principal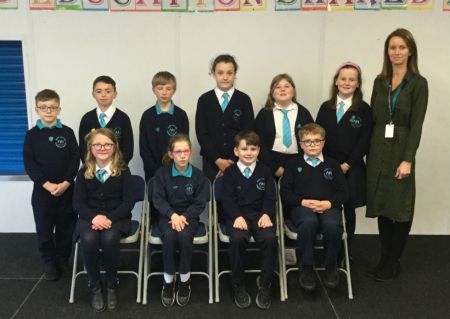 Joanne O'Donnell - Acting Principal with School Council
Julie McDonagh - Principal
Exciting News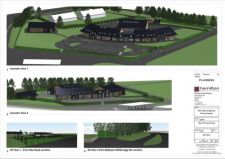 ***ROE VALLEY IPS NEW SCHOOL BUILD UPDATE***MARCH 2018***
Following a public consultation, a formal planning application for the new build school for Roe Valley Integrated Primary School has been submitted to the Causeway Coast and Glens Council.
For anybody who is not aware the new site is located on the Ballyquin Road, Limavady (adjacent to the newly constructed Petrol Station). The new school will provide a modern fit for purpose 7 class base primary school. The facilities will include a multi-purpose assembly hall with changing facilities, state of the art technology, hard and grass play areas with onsite parking and drop off facilities.
As part of the public consultation two Pre Application Notification (PAN) events were held on the 25th October 2017 and 22nd November 2017 at the existing school. Roe Valley Integrated Primary School would like to thank all those who attended the events for the invaluable contribution they made to the development of the project to date.
The submission of the planning application represents yet another major step forward in the development of a new school for Roe Valley Integrated Primary School. #integratededucation
2018/19 Annual General Report
Remote Learning Survey
Parent/Guardian of RVIPS pupils,
Please follow link below for Remote Learning Survey, to be completed at your earliest convenience.
Thank you.
Latest Gallery
P1-P3 Nativity: The Midwives' Crisis
Roe Valley Integrated Primary School 153 Roe Mill Road
Limavady Co L/Derry N Ireland BT49 9EX
Tel: 028 777 68695
E: info@roevalleyips.limavady.ni.sch.uk