WELCOME TO OUR WEBSITE!
Roe Valley IPS is a child-centred, all inclusive, integrated primary school celebrating 18 years as the only integrated school in the Limavady area. We welcome, celebrate, respect and cherish children of all backgrounds and faiths, developing an open-minded attitude in children and enabling them to value each other's beliefs.

As children are at the heart of our school we believe all children are special and should feel valued. Our happy, creative children have a love for learning, develop confidence, high self-esteem and independence, and reach their potential - academically, socially, physically and emotionally.

Our children thrive in an atmosphere that is nurturing and positive, and experience success in an enriching, vibrant and safe learning environment. Children access the wonders of Roe Valley IPS, our innovative technology, our outdoor classroom and play facilities, sport, music and language sessions, our breakfast club, extracurricular activities and the extended day.

As a dedicated, professional and caring school team we pride ourselves in our partnerships with parents, excellence in learning and teaching and in pastoral care. We are a listening school.

Our children, parents, staff and governors have real pride in our school and we are excited about our current new school build process.

Please navigate our Virtual Tour menu tabs and click on the white hot spots, doors and audio buttons too.

Alongside our Virtual School Tour Experience you are welcome to contact our school on 028 7776 8695 or by email info@roevalleyips.limavady.ni.sch.uk to speak with myself or to arrange a visit or an online consultation to find out more about our school. We look forward to hearing from you.

Join us on our journey of sharing, discovery, development and learning.

Visit our website and Facebook page for our Roe Valley IPS pupil and parent testimonials.

Best wishes

Julie McDonagh

Principal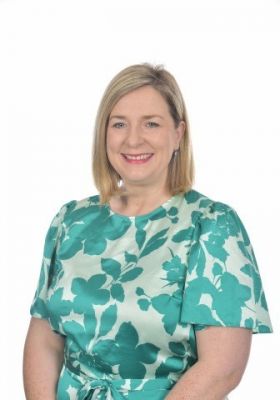 Julie McDonagh - Principal
RVIPS Videos
Primary 7 Celebrate Grandparents Day ⭐️
Primary 7's Autumn Walk 🍁🍃🍂
Primary 6 Grandparents Day
RVIPS Parent/Guardian Testimonials
Primary 3 Parent/Guardian
Making the choice to send my children to RVIPS has been the best choice I have ever made.
It is an amazing school with the most supportive,approachable and personable staff and principal.
My children are so happy and enjoy every aspect of their school life.
The school is the perfect environment for children to be nurtured and to grow from strength to strength. RVIPS has the most amazingly unique feel to it - The warm and welcoming atmosphere is like no other!!
Primary 5 Parent/Guardian
"We sent our daughter to Roe Valley Intergrated PS because we loved the feeling we got from the school the very first time we visited. It felt warm and welcoming. We weren't wrong as we still get that same feeling very day we leave her to school. All the staff at RVIPS and fantastic and our daughter loves going to school. It's inclusive and embraces children for who they are, each child at treated as individuals! Fantastic school!"
Primary 6 Parent/Guardian
"The school is outstanding, the pupils needs and feelings are always a priority. I have had two children at the school and have never had any issues. My children have always had great teachers that show a lot of care and attention."
Primary 1 Parent/Guardian
"Doing something right. Lily doesn't like the weekend because there's no school."
Primary 4 Parent/Guardian
"I highly recommend roe valley Intergrated as a 1st class school my daughter loves school even threw Covid and lockdown the school principal and teachers where just a phone call away or a wee message on the seasaw making up teaching packs for us to teach our children so they didn't fall behind on anything.the school is amazing teaching all our children about different religions and coultures which brings all our children together."
Primary 2 Parent/Guardian
"Such a brilliant school. Our daughter loves her class, teachers and classroom assistants. We've watched her grow and learn so much from p1 until now in p2. A fantastic school with great activities, clubs, after schools etc. So supportive and nothing is ever a problem. Thankyou 👏👏 "
Primary 5 Parent/Guardian
"Both my children love Roe Valley Integrated Primary School and it's not hard to see why. From the friendly atmosphere to the lovely staff, they leave one family environment and go to another.
The teachers make sure parents are well informed at all times with regular updates through seesaw & messages.
We as parents knew 5 years ago that an integrated setting was the best choice for us as a family and we are so glad we chose RVIPS. And we look forward to our other two children attending and experiencing life at RVIPS."
Primary 5 Parent/Guardian
"Since he has started his RVIPS journey he has achieved and thrived in a lot of different ways. He loves going to school everyday and us as parents we love to hear how his day went went he returns from school at the end of the day. He is accessing and can get through any challenge that is set out for him. The teachers are doing a fantastic job with keeping us informed with what he does during his school day. We as parents made the right choice sending our son to RVIPS as this school is integrated so he is learning about different cultures and religions and it's great to see him working a long side other children and learning new things everyday. RVIPS is the perfect stepping stone in our son's furture and am so proud of how well he has come on. "
Primary 2 Parent/Guardian
"My son came to to the school at the start of the p2 year. Nervy about the new setting for him. He is asd and does not do well with new. Even down to his shoes which pillow cover the wrong trousers. I needn't have worried the school lives up to its sterling reputation. My son has thrived and made leaps this short school year. He's made friends. The environment his teachers have provided him, has made it safe and his goals achievable. I am awed every single day and have so much gratitude to the staff for the advice they share, the work the patience and the whole hearted care the have for him means the world to us. He loves them so much. I adore this school so much and they have made this transition a lot easier for us.
Thank you all."
Primary 4 Parent/Guardian
"Since our daughter started RVIPS we have been made very welcome and we are most impressed with the ethos of the school. We are happy with the progress our child is making and she is extremely content with day to day school life. All members of staff work together to create a happy educational and extra curricular environment. We are looking forward to our son starting primary 1 next year. ⭐️⭐️⭐️⭐️⭐️"
Primary 4 Parent/Guardian
"RVIPS, go above and beyond an excellent school that is definitely not recognised enough. Staff are very approachable, understanding and nurturing.RVIPS was certainly the right choice for our children, and if we continue to spread the word on just how much hard work and dedication the staff and team put in then more parents / carers will be eager to join this brilliant intergrated school.Pity this school was not available when I was growing up, more intergrated schools should be the focus in our wee country using our school as a template."
Primary 3 Parent/Guardian
"From starting Roe Valley IPS my child has thrived, achieved and blossomed in so many ways. She skips in and out of school daily. She is so happy in school and is accessing so many new initiatives and healthy challenges throughout her school day. Teachers are enthusiastic, accessible and are keen to keep parents informed! We as a family were keen for our children to go to an integrated setting where children from different religions, cultures and abilities have the opportunity to work together and learn from each other, providing our children with the perfect stepping stone to the journey of life that lies ahead for them."
Primary 4 Parent/Guardian
"My child moved to Roevalley integrates in p2.I find the school and it's staff to be very friendly and each child individuality is very important. My child comes home from school every day and is so excited to get back in the next day."
Primary 3 Parent/Guardian
"This school is everything I want in a primary school for my children. Great learning through play and fsbulous pastoral care. Would alway recommend this school to friends."
Primary 2 Parent/Guardian
"RVIPS is an outstanding school. All teaching and non-teaching staff have been nothing but caring, professional, enthusiastic, and invested in all three of my children. My girls love school and their physical, intellectual, emotional and social experiences at RVIPS have prepared them well for life. They truely are part of the family of Roe Valley."
Primary 5 Parent/Guardian
"I couldn't have asked for better school or staff for my children. The support from everyone is just fantastic. There is always a warm & inviting feeling upon every visit. The support is second to none."
Primary 4 Parent/Guardian
"My thoughts on rvips is that it's a great school plenty of school activities during school and after school my daughter is p4 and she never has a bad complaint about school she loves it."
Primary 7 Parent/Guardian
"All our children have attended Roe Valley Integrated Primary School.
The committment and dedication of both teaching and support staff is over and above.
We as a family love the integrated ethos and my children wear their uniform with pride. They know they are part of something special in our community.
Respecting other families with different culture, race, ability and religion is only humane in todays society. This works alongside a high standard of education taught at each individual child's level of learning.
Equality and nuture is very natural at Roe Valley Integrated Primary School.
I highly recommend this school."
Primary 4 Parent/Guardian
"I absolutely LOVE this school it has been truly amazing for my kids they have thrived in their time at the school , the school is committed to each and every pupil and the parents. I have nothing but the highest regards for the school and all the staff the best school about."
Primary 7 Parent/Guardian
"RVIPS has a dedicated staff team and is governed by excellent leadership of the principal. Both of my children, one how at LGS and the other in P7 have excelled, in what is, a nurturing and child centred learning environment. The ethos and culture of learning, in a fun and creative environment is outstanding. It acknowledges strengths and progress of their pupils.I would wholeheartedly recommend this school."
Primary 4 Parent/Guardian
"RVIPS has been both my sons school for the past 10 years and was integral in getting my older son to Limavady Grammar School. The way the schools handles inclusivity is to the credit of Mrs McDonnagh and her exceptional staff. I would personally encourage any parent, no matter of race, colour, creed, or even disabilities, to attend RVIPS, as it is, by a long way, the most enjoyable experience my boys have had and continue to have, in an educational environment."
Primary 2 Parent/Guardian
"The school goes above and beyond for their students every day. I am proud for my son to be going to this school and I do not have a bad word to say about the school. From the very first day walking through the gates to be greeted by Mrs mcdonagh by my sons first name amazed me and the fact Sammy and also Roy always take the time to speak to my daughter and give her high 5 and say hello means so much to me and is a credit to the school."
Primary 5 Parent/Guardian
"This is an excellent school, all the staff and teachers are so kind and caring and make you feel very welcome, I made the right choice sending my son to this school. He loves going to school everyday, and they always have a lot of activities on for the children to do. I can't fault anything about the school at all. The principal is thoughtful and anything you need or if something happens Julie is always there to help, she is a brilliant role model for those children that attend the school."
Primary 3 Parent/Guardian
"The RVIPS family provide a supportive, caring, community led culture all while providing high educational and teaching standards. My kids love it!"
Latest Gallery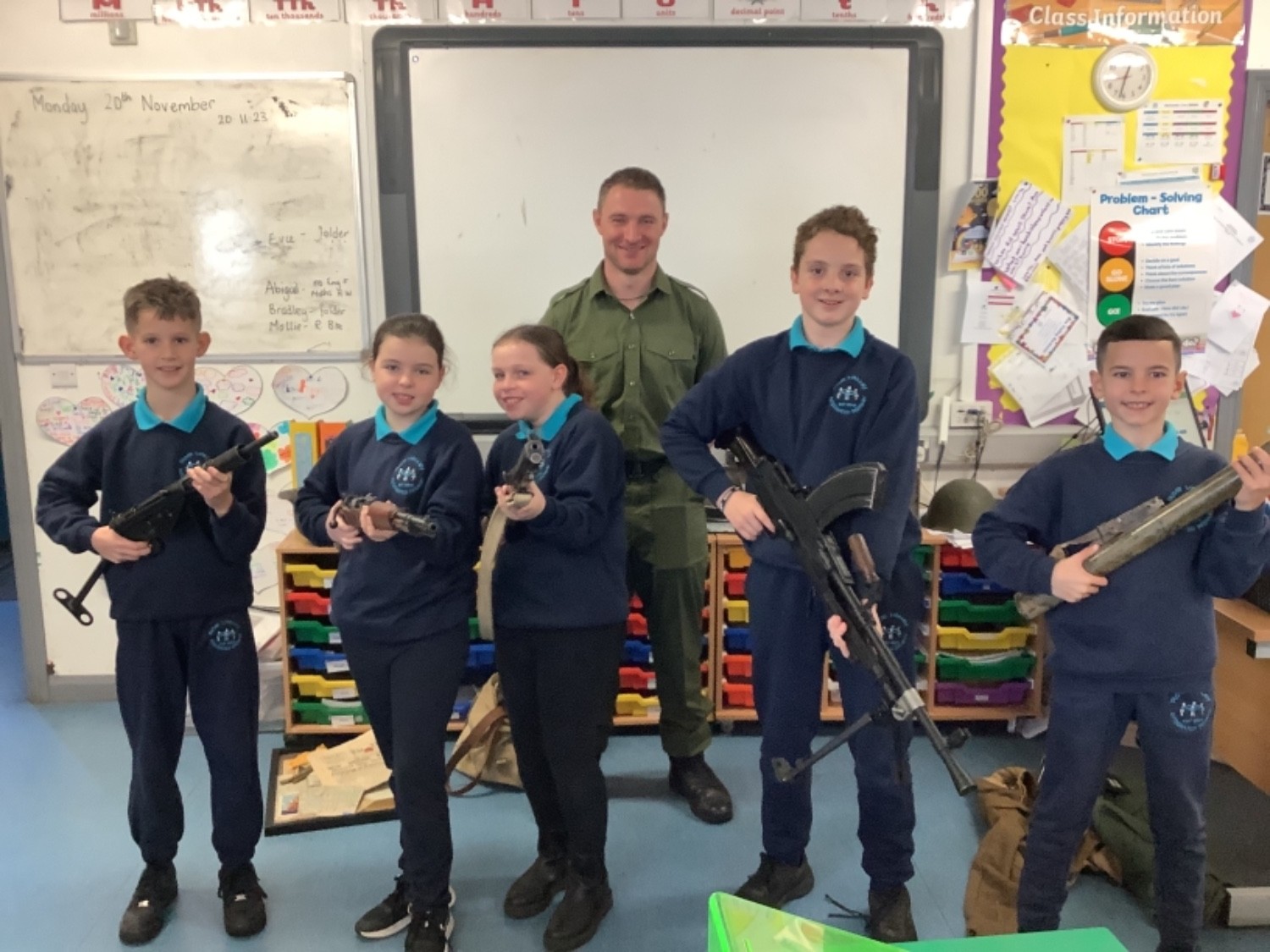 RVIPS New School Build Progress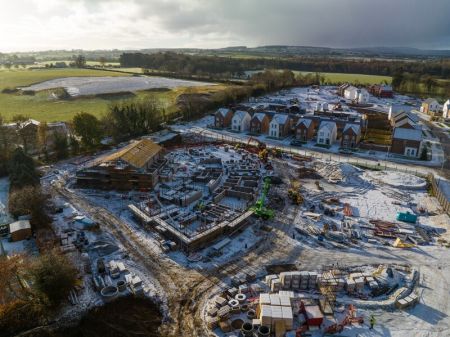 30th September 2022 Roe Valley IPS Statement
Roe Valley IPS New School Build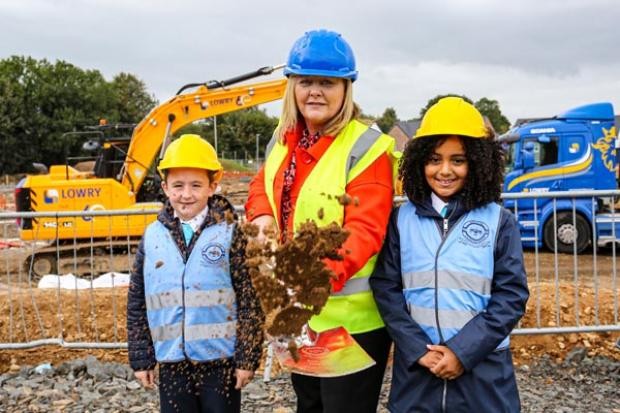 Roe Valley IPS New School Build Announcement

It is exciting news that as we approach our 20-year anniversary at Roe Valley Integrated PS, Limavady that we announce the commencement of the construction of the new school building this summer. It will provide children and young people with a continued caring environment and an enhanced educational experience thus empowering them as individuals to affect positive change in a shared society.
The new school building will be located on the Ballyquin Road adjacent to the new Roe Wood housing development. The new school building will be at the heart of the community and play an important role in the regeneration of the former Gorteen site.
The £6.3 million project will deliver state-of-the-art facilities for pupils, staff, parents and the wider community. Lowry Building & Civil Engineering Ltd have been appointed to construct the new school. It is estimated the new school will be completed by the summer of 2023.
Principal Julie McDonagh said, "This is a tremendously exciting step forward for our fabulous children, the Roe Valley IPS team as well as our wider community. We have been providing first class educational opportunites at Roe Valley IPS for almost 20 years and look forward to the next chapter, developing our child-centred, inclusive primary school so that it is best in class.
Our children deserve the best start in life and so a contemporary 21st century school, including state-of-the-art classrooms and resources, will help us to provide an excellent education. Our stunning location will be complemented by our wonderful new building. I am delighted to have Lowry Building & Civil Engineering Ltd on board, they have extensive experience in delivering high-quality buildings.
An extraordinary effort must be acknowledged to both past and present colleagues and Board of Governors in getting us to this stage. Their commitment and perserverance throughout this process has been exemplary." The new build is being funded by the Department of Education as one of a number of Integrated Schools named in the first tranche of funding allocated under the Fresh Start Agreement in 2016.
Welcoming the news, Jemma Catterson of Lowry Building & Civil Engineering Ltd said, "We are delighted to see the construction begin on the new Roe Valley IPS this summer, our experienced team are keen to get started and deliver a high quality, bespoke new building to benefit the students and teachers with state-of-the-art facilities. Having been involved in the design process to date, seeing the construction phase of the project through will be fantastic for the team as a whole."
RVIPS Virtual Tour Experience
Roe Valley Integrated Primary School 153 Roe Mill Road
Limavady Co L/Derry N Ireland BT49 9EX
Tel: 028 777 68695
E: info@roevalleyips.limavady.ni.sch.uk