Primary 7
Welcome to the Primary 7 class page.
We are the eldest, most mature and obviously smartest cookies in Roe Valley IPS!!! Our class has 27 wonderful, enthusiastic boys and girls, all focused on learning lots and achieving our best. Mr Proctor is our wonderful teacher and Kris, Theresa, Sharleen, Claire and Jenni are our fantastic assistants.
As role models for the younger boys and girls we try to lead by example in our behaviour around school. We also take on lots of important responsibilities to help our school community, such as peer mediation, school council, eco stars and digital leaders.
Our favourite things to do are ICT, P.E, STEM (Science, Technology, Engineering and Maths), Geography and Art. We also love to play football, hockey, gaelic, cricket, basketball and netball during our outdoor play.
We have enjoyed learning about the Titanic, finishing it off with our trip to the Titanic quarter in Belfast. We have went on our P7 Trips which was a 4 day extravaganza to the Titanic quarter, Limitless Adventure Centre, Brunswick Moviebowl and W5. These were all very interesting.
Class Photograph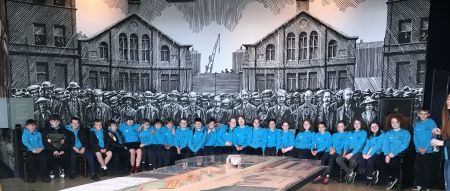 &nsbp;
Roe Valley Integrated Primary School 153 Roe Mill Road
Limavady Co L/Derry N Ireland BT49 9EX
Tel: 028 777 68695
E: info@roevalleyips.limavady.ni.sch.uk