Eco Council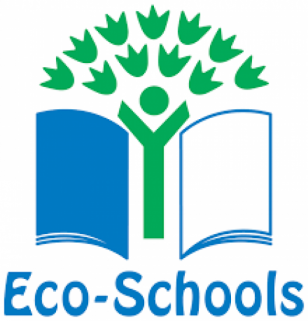 Roe Valley IPS is an ECO School. The ECO Schools initiative is run by Tidy NI and is the world's largest environmental educational programme. It is a pupil led initiative and it makes environmental initiatives and awareness an intrinsic part of school life at Roe Valley IPS. All classes are actively involved and children are made aware of environmental issues through visits to our local Recycling Centre, planting in the local community, participating in Big Spring Cleans, developing our school grounds, attending visits to our local wind farm, the list of opportunities is endless. Children are especially busy on 'Green Day' as children have a key focus upon one environmental issue ranging from renewable energy sources to reduce, reuse, recycle.
At Roe Valley IPS we have a carefully selected group of ECO Monitors from Primary Four through to Primary Seven. Monitors are selected by Mrs Boyd and Miss Cummings from their ECO Monitor application form, expressing their interest in the role and what qualities they possess to be an effective monitor. Within their role the ECO Monitors:
Disseminate information to the rest of their peers
Complete and environmental review of the school
Work on an ECO Code that is relevant to our school
Attend weekly After Schools Club
Get active in our local community, working with different groups
Be energy effective during the daily running of our school day
This year we are applying for the renewal of our current Green Flag (assessed every two years) and the ECO Monitors have been busy making amendments to our school grounds as well as placing a focus upon renewable energy.
Roe Valley Integrated Primary School 153 Roe Mill Road
Limavady Co L/Derry N Ireland BT49 9EX
Tel: 028 777 68695
E: info@roevalleyips.limavady.ni.sch.uk