Language and Literacy at Roe Valley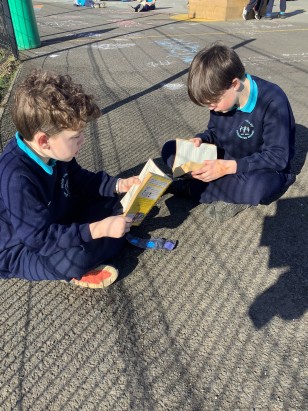 Literacy focuses on developing each child's ability to understand and use both written and spoken language, as an integral part of learning. The development of language and literacy is crucial to living and learning. These skills allow children to interact effectively with the world around them, to express themselves creatively and to communicate confidently, through Talking and Listening, Reading and Writing.
We believe that Language and Literacy are fundamental prerequisites for thinking, learning and interacting in personal, social and work contexts throughout life. Literacy is therefore a key to learning as well as a key to enjoyment and personal growth.
At Roe Valley IPS, we take great pride in providing our pupils with a stimulating, resourceful and language-rich environment where they can develop their Literacy and Language skills at a pace that suits their ability and challenges each child to reach their potential. We develop independent writers and readers from an early age and value the outcomes of each individual child, celebrating each child's successes.
Reading is at the heart of Roe Valley IPS and we aim to instil a love of reading in all our children that will stay with them throughout their lives. We have a range of fantastic programmes in place to encourage a love of reading throughout our school, including Reading and Phonics Workshops, the Story Sacks Programme, Paired Reading, the Reading Partnership Programme, Accelerated Reading and our newest addition, the Big Cat Collins Reading scheme! These programmes have proven to be very successful and popular with both our children and parents.
Assessment Of Language and Literacy
Language and Literacy is assessed using three key areas:
Talking and listening
Reading
Writing
Click here for more information on the Planning and Assessment of Language and Literacy in the Foundation Stage.
Click here for more information on the Planning and Assessment of Language and Literacy in Key Stage 1 and Key Stage 2.
Roe Valley Integrated Primary School 153 Roe Mill Road
Limavady Co L/Derry N Ireland BT49 9EX
Tel: 028 777 68695
E: info@roevalleyips.limavady.ni.sch.uk