Making Memories in Primary 4
14th Nov 2016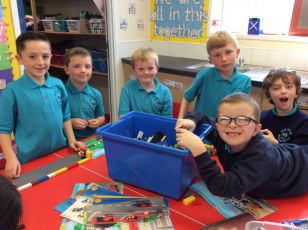 In Primary 4, we are super busy! We have been learning about recipes and writing instructions, we made ham and jam sandwiches! Our favourite part was eating them at the end!
After all that hard work, we really enjoy making memories with our friends and having fun during Golden Time.
We had great fun at Tesco's, as part of the 'Farm to Fork' project. We were able to taste lots of different fruits and vegetables. We did our shopping task, putting it through the till and checking our receipts! After all that hard work, we even had time to stop off at the bakery for a little treat!
Roe Valley Integrated Primary School 153 Roe Mill Road
Limavady Co L/Derry N Ireland BT49 9EX
Tel: 028 777 68695
E: info@roevalleyips.limavady.ni.sch.uk