WELCOME TO OUR WEBSITE!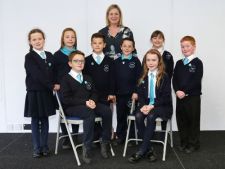 Roe Valley is an integrated primary school, which welcomes children from all backgrounds regardless of creed, race, gender or ability. We encourage an atmosphere that is happy, positive and stimulating and develop an open-minded attitude in children,enabling them to value and respect each others traditions and beliefs.

Visitors comment on the warm and caring atmosphere and the bright vibrant learning environment which is evident when you walk around the school. The feedback from the local community is extremely positive and children, parents and staff have developed a real pride in their school and we are looking forward to planning our move to a new building!
As children are at the heart of our school we believe all children are special and should feel valued. We believe children learn best when they are happy and so the development of high self-esteem among children and staff is very important in Roe Valley.
We hope you enjoy using our new website and find it informative and useful.
Julie McDonagh, Principal
Latest Gallery
1st Sep 2017
Please see our menu.
School meals are charged at £2.60 per day or £13.00 per week. Those children entitled to Free School Meals will not be charged. If you would like to apply for Free School Meals please contact the Education Authority on: 82 411 411.
If your child has any allergies or dietry requirements is very improtant that you notify the class teacher or school office.

Upcoming Events...
Wednesday, 28th March 2018
Easter Holidays commence - School closes at 12noon
Thursday, 29th March 2018
Easter Holidays - school closed
Friday, 30th March 2018
Easter Holidays - school closed
Monday, 2nd April 2018
Easter Holidays - school closed
Tuesday, 3rd April 2018
Easter Holidays - school closed
Wednesday, 4th April 2018
Easter Holidays - school closed
Thursday, 5th April 2018
Easter Holidays - school closed
Friday, 6th April 2018
Easter Holidays - school closed
February Well-Being Action Calendar
We have launched our Action Calendar for February. Our pupils, parents, staff and governors will encouraged to action each day's task.
Open Enrolment
If you wish to make an enrolment enquiry, please contact us by e-mail- jmcdonagh144@c2kni.net or by telephone- 028 777 68695.
You will be very welcome to arrange to visit Roe Valley Integrated PS at your convenience, meet the Principal, staff and pupils, have a tour of the school and our facilities, and discover our Integrated Ethos.
If you are moving into the area, considering a move to a new school, and/or want an Integrated Primary Education for your child please contact us at any time.
The closing date for submitting an application form for a primary school place for September 2018 is WEDNESDAY 10th JANUARY 2018 AT 12 NOON.
Only one official application form must be submitted for every child seeking a primary school place in September 2018. All preferences should be listed in order on this form.
Parent(s)/Guardian(s) seeking admission to Roe Valley Integrated PS are invited to complete the school's own pre-enrolment Information Form as well as the Education Authority's application form to determine balance.
You can express interest and pre-register children by contacting the school office. By doing this you can be assured of receiving important information, invitations to school events, important dates and an application form.
Please find forms below.
Exciting News
EXCITING NEWS - 'NEW SCHOOL BUILD' for ROE VALLEY IPS
We are delighted to announce that we have now acquired and signed the contract for our new site on which our new school will be built. The site is located behind the Old Gorteen Hotel lands along the Ballyquin Road (On the right hand side of the road leaving Limavady, just before the turn onto Scroggy Road). Please view the map with general outline planning for your information and look forward to keeping you informed at each stage of the new build process.
Please share our wonderful news!
Roe Valley Integrated Primary School 153 Roe Mill Road
Limavady Co L/Derry N Ireland BT49 9EX

Tel: 028 777 68695
E: info@roevalleyips.limavady.ni.sch.uk
WEBSITE BY: SCHOOLWEBDESIGN.NET | Login