Green Day
18th Apr 2016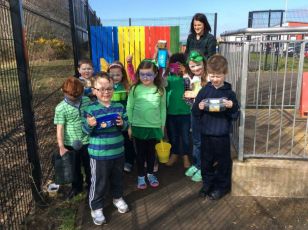 P2 found their green fingers this year and planted sunflower seeds in recycled pots.
We gathered up some very interesting plant pots, including an old toy truck, an old show and even an old football cut in half.
Now lets hope the sun comes out to help our little seeds grow.
Roe Valley Integrated Primary School 153 Roe Mill Road
Limavady Co L/Derry N Ireland BT49 9EX
Tel: 028 777 68695
E: info@roevalleyips.limavady.ni.sch.uk