Foundation Stage Sports Day
24th Jun 2016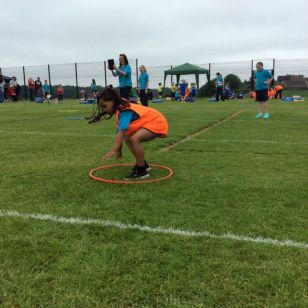 Primary One and Two had a wonderful Sports Day.
Our teams were beautifully bright and incredibly fast. The Awesome Oranges, Powerful Pears, Brilliant Bananas, Super Strawberries and Brilliant Blueberries gave it their all.
We enjoyed the sack race, obstacle race, scoop and ball race, water tray race and the hoop race.
The boys and girls all looked so proud as they showed off their winning stickers to families and friends.
We enjoyed watching the 'Families and Friends' Team Challenge race and the delicious ice-cream was a well-deserved treat for everyone after such a fabulous day!
Roe Valley Integrated Primary School 153 Roe Mill Road
Limavady Co L/Derry N Ireland BT49 9EX
Tel: 028 777 68695
E: info@roevalleyips.limavady.ni.sch.uk