Big Spring Clean!
20th May 2013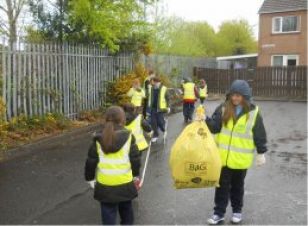 On Thursday 16th of May the school ECO Monitors and the children from Primary Six took part in the Big Spring Clean.
Approximately forty children participated alongside John McCarron, Mrs O'Donnell, Lucinda, Miss Mullan and Bronagh.
Limavady Council provided everyone with litter pickers, high visibility jackets, latex gloves and bags. The area surrounding our school was cordoned off with cones identifying the area we would be working within.
Everyone thoroughly enjoyed the litter pick. The children were amazed as they found the most bizarre objects. The head of a golf club, a packet of crisps dated from 1999 (this was definitely not biodegradable) a child's dummy, pieces of wood and even a ten pound note!!!!!!! In total the children collected 3 full bags of litter in the space of 45 minutes. We are all amazed at the amount we gathered, but the hard work didn't stop there.
The children then sorted and collated the litter collected to create bar charts on the various objects collected. The majority of items collected in the litter pick were made from plastic and therefore could be recycled. We hope Primary Five can use some of the objects collected to help create their scarecrow for Roe Valley's Secret Garden.
As our Litter Pick was so successful we have decided as a committee to make our Litter Pick a more frequent event and hope to hold one each term.
We all gained so much from the event and it felt good doing something positive for the environment.
Roe Valley Integrated Primary School 153 Roe Mill Road
Limavady Co L/Derry N Ireland BT49 9EX
Tel: 028 777 68695
E: info@roevalleyips.limavady.ni.sch.uk